20 Best Beaches in the World
Anse Source d'Argent, La Digue, Seychelles
With sun-dappled giant boulders, calm turquoise waters, snow white sand, and palm trees and jungle for greenery, this Indian Ocean beach seems created by a Hollywood set designer. It's no wonder that it is often ranked as the most photographed beach in the world.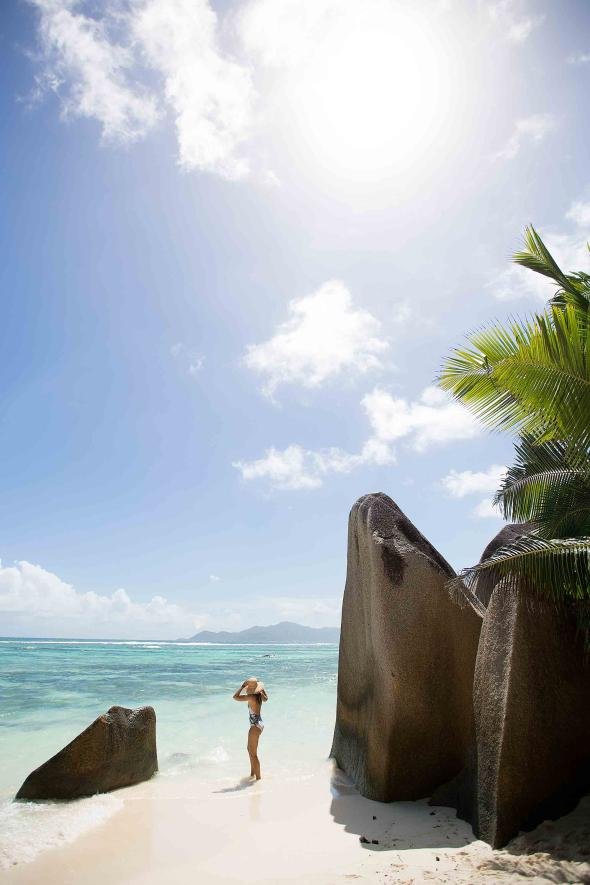 La Digue is the third largest inhabited island of the Seychelles in terms of population, lying east of Praslin and west of Felicite Island. In terms of size it is the fourth largest granitic island of Seychelles after Mahé, Praslin and Silhouette Island. It has a population of 2,800 people, who mostly live in the west coast villages of La Passe and La Réunion. There is no airport on La Digue, so to get there from a foreign country, one has to fly to Victoria and continue by ferry, usually via Praslin. It has an area of 10.08 km2, which makes it relatively easy to travel around by bike or on foot.
La Digue was named after a ship in the fleet of French explorer Marc-Joseph Marion du Fresne, who visited the Seychelles in 1768.
The Seychelles in general have warm temperatures throughout the year. Thanks to their location near the equator, they get frequent and sometimes heavy rainfall. On La Digue, rainfall can be very heavy, but it usually lasts for one hour or less. The day temperature on La Digue normally stays between 24 °C (75 °F) and 32 °C (90 °F) and the nights do not get too much colder than that. There is most rainfall from October to March, with a monthly precipitation of 402.6 mm (15.85 in) in January. There is the least precipitation in July, with only 76.6 mm (3.02 in) of rain.