20 Best Beaches in the World
Piscinas Beach, Arbus, Sardinia
Sculpted by the mistral wind and embellished with juniper bushes and olive trees, the Piscinas Dunes paint a mercurial backdrop on Sardinia's southwestern Costa Verde (Green Coast). A former mining warehouse, Hotel Le Dune Piscinas sits at the edge of the Mediterranean Sea, with ample windows and lounge spots for admiring the ever changing canvas of sky, sand, and waves.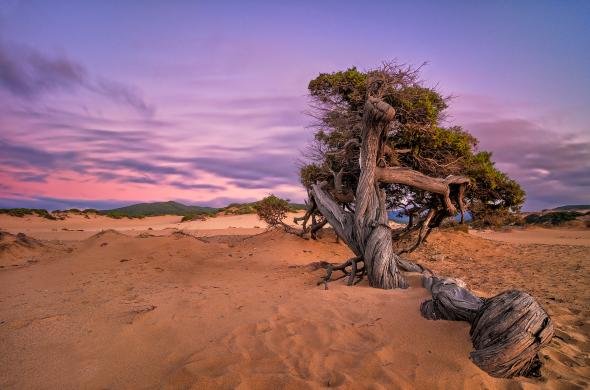 Located in an isolated zone and of great naturalistic beauty, the beach of Piscinas, along the seashore of the Costa Verde, is surrounded for some kilometres by tall dunes (among the tallest in Europe), still alive and modelled by the mistral wind, its yellow ochre colour occasionally interrupted by bushes of prickly esparto, thorny carrot, sea lily and, more inland, junipers and old olives that form small groves.
A flora-fauna territory of great interest, the ideal environment for long walks on the sand, especially in the early hours of the morning, when it is even possible to glimpse the deer that actually go down to the sea and, in the month of June, the sea turtles that lay their eggs. Not far away, in Marina of Arbus, we find the stretch of beach of Funtanazza, of intense green waters and dark grey sand, and the beaches of Pistis and Torre dei Corsari, characterised by a long, wide beach surrounded by golden dunes. A swim offshore, at just 200 metres from the beach, allows the swimmer to observe a rare, evocative sea landscape, also noticing traces of a wrecked English ship that, loaded with lead and armed with a gun, has rested among the sand for some hundred years.