Top-25 Best Places in Italy
Homeland of famous artists and talented scientists who changed the order of the world, home to the largest number of UNESCO World Heritage sites, and a kaleidoscope of enchanting scenery – Bella Italia! From all kinds of ancient monuments of Rome and the charming romantic Venice, to the rolling hills of Tuscany and cosmopolitan Milan, the country – a limitless source of attractions.
Based on user ratings it has compiled a list of the 25 best sights of Italy. This collection will help all travelers who plan their route in the country, as there are assembled some really interesting and unique places, as well as useful tips on how to have a good time and get the most positive impressions.
1. Valley of the Temples in Sicily
Welcome to Sicily where you will meet one of its most spectacular sights.
Valley of the Temples in Agrigento – a vast archaeological site containing the remains of various well-preserved prehistoric temples, dating from the 5th century BC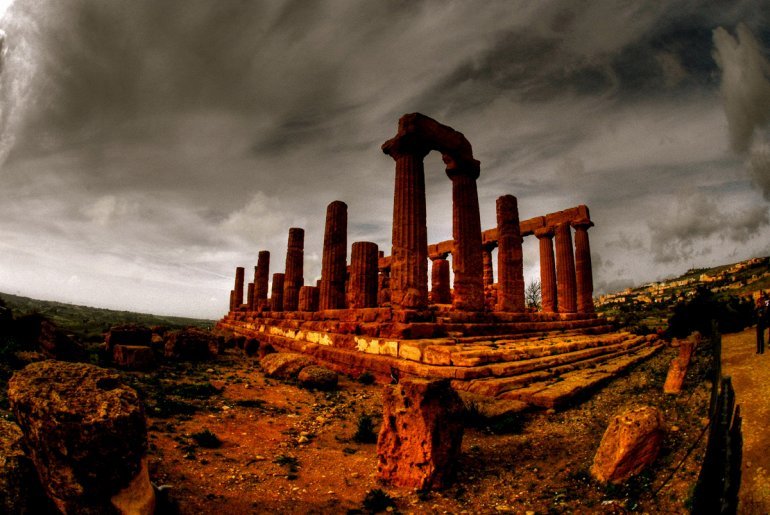 The Valle dei Templi is an archaeological site in Agrigento, Sicily, southern Italy. It is one of the most outstanding examples of Greater Greece art and architecture, and is one of the main attractions of Sicily as well as a national monument of Italy. The area was included in the UNESCO Heritage Site list in 1997.
Much of the excavation and restoration of the temples was due to the efforts of archaeologist Domenico Antonio Lo Faso Pietrasanta (1783–1863), who was the Duke of Serradifalco from 1809 through 1812. The archaeological park and landscape of the Valley of the Temples is the largest archaeological site in the world with 1,300 hectares.
The term "valley" is a misnomer, the site being located on a ridge outside the town of Agrigento.
Due to its good state of preservation, the Temple of Concordia is ranked amongst the most notable edifices of the Greek civilization existing today. Notably the UNESCO symbol alludes to this temple 6 column facade. It has a peristatis of 6 x 13 columns built over a basement of 39.44 x 16.91 m; each Doric column has twenty grooves and a slight entasis, and is surmounted by an architrave with triglyphs and metopes; also perfectly preserved are the tympani.
The cella, preceded by a pronaos, is accessed by a single step; also existing are the pylons with the stairs which allowed to reach the roof and, over the cella's walls and in the blocks of the peristasis entablature, the holes for the wooden beam of the ceiling. The exterior and the interior of the temple were covered by polychrome stucco. The upper frame had gutters with lion-like protomes, while the roof was covered by marble tiles.