Top-25 Best Places in Italy
18. Assisi – a city in the mountains
Approximately 5 million visitors each year to turn a small town in Umbria into a thriving tourist area in Italy that would surprise even the St. Francis, founder of the city.
What is so attractive for tourists? Among the many other wonders of this Basilica di San Francesco 13th century, with the sacred relics of Francis and beautiful frescoes, documenting his life, as well as numerous other churches, Roman ruins, sacred shrines, and the narrow medieval streets, creating almost mystical atmosphere under the patronage UNESCO.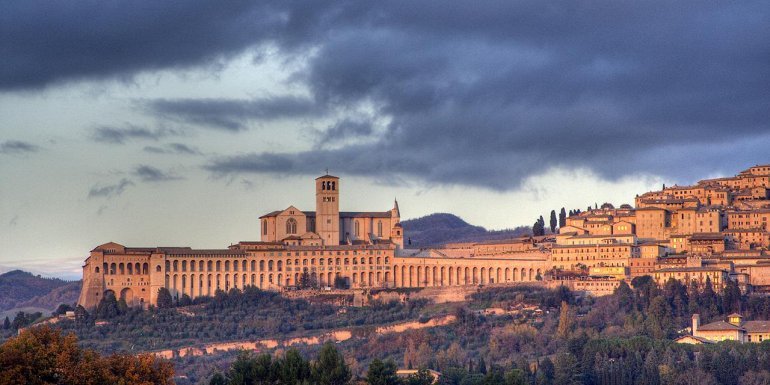 Assisi is a town and comune of Italy in the Province of Perugia in the Umbria region, on the western flank of Monte Subasio.
It was the birthplace of St. Francis, who founded the Franciscan religious order in the town in 1208, and St. Clare, the founder of the Poor Sisters, which later became the Order of Poor Clares after her death. The 19th-century Saint Gabriel of Our Lady of Sorrows was also born in Assisi.
Around 1000 BC a wave of immigrants settled in the upper Tiber valley as far as the Adriatic Sea, and also in the neighborhood of Assisi. These were the Umbrians, living in small fortified settlements on high ground. From 450 BC these settlements were gradually taken over by the Etruscans.
The Romans took control of central Italy after the Battle of Sentinum in 295 BC. They built the flourishing municipium Asisium on a series of terraces on Monte Subasio.
Roman remains can still be found in Assisi: city walls, the forum (now Piazza del Comune), a theatre, an amphitheatre and the Temple of Minerva (now transformed into the Church of Santa Maria sopra Minerva). In 1997, the remains of a Roman villa were also discovered containing several well-preserved rooms with frescoes and mosaics in a condition rarely found outside sites such as Pompei.
In 238 AD Assisi was converted to Christianity by bishop Rufino, who was martyred at Costano. According to tradition, his remains rest in the Cathedral Church of San Rufino in Assisi.