Top-25 Best Places in Italy
3. The Uffizi Gallery in Florence
With a reputation as one of the finest museums in the world, the Uffizi Gallery keeps unique works by Giotto, Botticelli, Mantegna, Correggio, Leonardo da Vinci, Raphael, Michelangelo, Caravaggio, Dürer, Rembrandt and Rubens.
More info about this, see the article about the sights of Florence.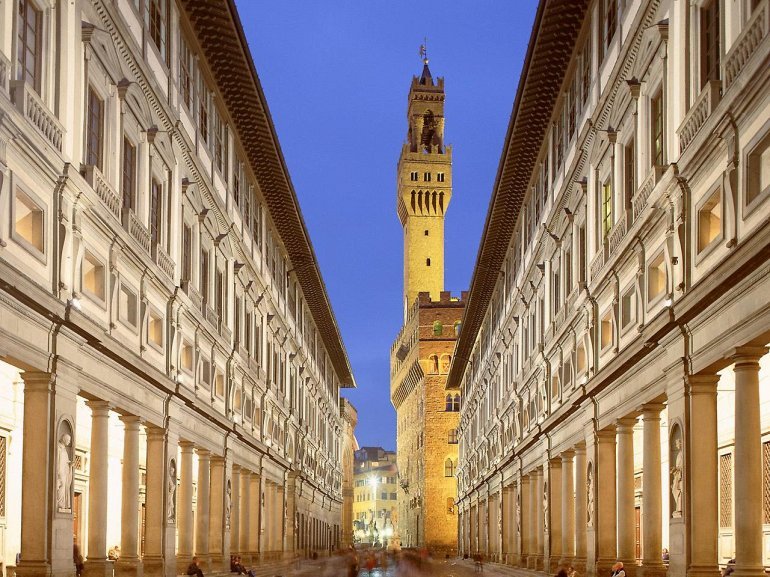 The Uffizi Gallery is a prominent art museum located adjacent to the Piazza della Signoria in central Florence, region of Tuscany, Italy. One of the most important Italian museums, it is also one of the largest and best known in the world, and holds a collection of priceless works, particularly from the period of the Italian Renaissance.
The building of Uffizi complex was begun by Giorgio Vasari in 1560 for Cosimo I de' Medici so as to accommodate the offices of the Florentine magistrates, hence the name uffizi, "offices". The construction was later continued by Alfonso Parigi and Bernardo Buontalenti and completed in 1581.
The cortile (internal courtyard) is so long and narrow, and open to the Arno at its far end through a Doric screen that articulates the space without blocking it, that architectural historians treat it as the first regularized streetscape of Europe.
Vasari, a painter and architect as well, emphasised its perspective length by the matching facades' continuous roof cornices, and unbroken cornices between storeys and the three continuous steps on which the palace-fronts stand. The niches in the piers that alternate with columns filled with sculptures of famous artists in the 19th century.