10 Rarest Fruits In The World
4. Jabuticaba
Jabuticaba is a rare, purple colored fruit native to Southeastern Brazil. Unlike other fruits, jabuticaba bear in the trunk of its tree. This fruit looks like grapes but has tougher outer skin. The fruit grows up to a size of one inch in diameter.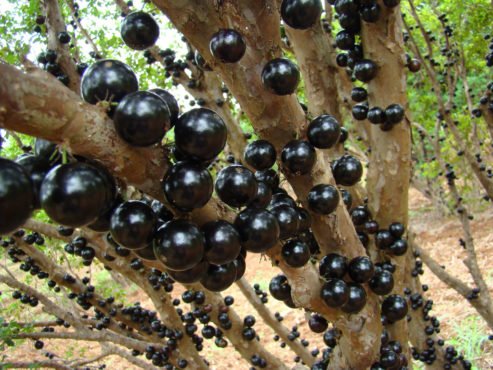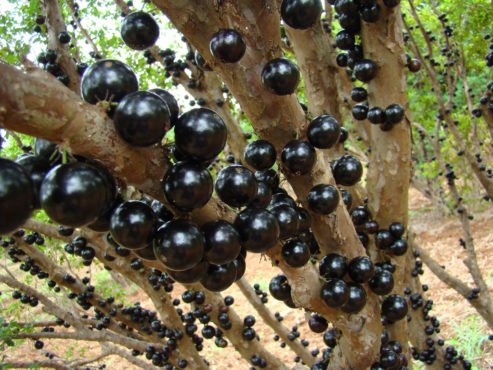 The whitish pulp of jabuticaba is very fragrant and sweet. This fruit is mainly used in baked products, jams, and wines. It can also heal diarrhea and asthma.
Plinia cauliflora, the Brazilian grapetree, or jabuticaba, is a tree in the family Myrtaceae, native to Minas Gerais and São Paulo states in Brazil. Related species in the genus Myrciaria, often referred to by the same common names, are native to Brazil, Argentina, Paraguay, Peru and Bolivia. The tree is grown for its purplish-black, white-pulped fruits; they can be eaten raw or be used to make jellies, juice or wine.
The fruit is a thick-skinned berry and typically measures 3–4 cm in diameter. The fruit resembles that of a slip-skin grape. It has a thick, purple, astringent skin that encases a sweet, white or rosy pink gelatinous flesh. Embedded within the flesh are one to four large seeds, which vary in shape depending on the species. Common in Brazilian markets, jabuticabas are largely eaten fresh; their popularity has been likened to that of grapes in the United States. Fresh fruit may begin to ferment 3 to 4 days after harvest, so they are often used to make jams, tarts, strong wines, and liqueurs. Due to the extremely short shelf-life, fresh jabuticaba fruit is very rare in markets outside of areas of cultivation. Traditionally, an astringent decoction of the sun-dried skins has been used as a treatment for hemoptysis, asthma, diarrhoea, and gargled for chronic inflammation of the tonsils.